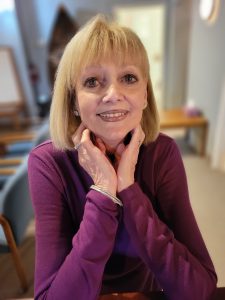 Hey there, I'm Gloria! I came to Canada in November 1966 from England, with my parents, brother, husband Tom, and two young children – Tony & Sharai (yes, you all know who SHE is).
Some of my earlier employment positions brought me into retail, company payroll etc…, and after spending several years as a volunteer at a Family Violence Center, I was offered the job of Night Supervisor and helped many victims in crisis counselling. Working as a Secretary however, (nowadays referred to as a "Personal Assistant") is how I spent the duration of my career history, which included working for a local church pastor for thirteen years. I enjoyed that job immensely.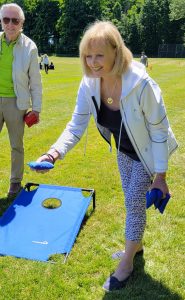 I absolutely love trips away, movies, playing games, dining out, and coffee times with friends, however, family times are THE most important and precious to me! My favourite animals are dogs and horses; in fact, it was my love of horses that led me to train in English riding. An interest in oil painting led me to take an evening course at Conestoga quite a few years ago, which I enjoyed. I usually listen to classical music and modern jazz, and get really inspired especially when I hear songs about Jesus that give us all hope and comfort!
Now I am a retired grandmother of three and a great-grandmother of two. A chiropractic patient here myself, I am delighted to provide "casual help" sometimes with the fabulous Blaser Chiropractic team. I have observed how welcoming and caring they are to all their patients and how Dr. Paul (my son-in-law) is so dedicated to giving each one the best help he knows. Also, I must say how very friendly the patients are towards me – WOW what a blessing that is!